Inside the Chianti stand during the last one Vinitaly we meet the friend Luca Simoni that with its 4 brothers carries forward the healthy culture of wine, between innovation and rediscovery of old traditions.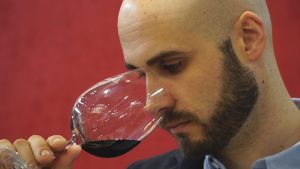 "Our company is based in Siena" - he says Luca Simoni, Azienda Agricola San Giorgio in Lapi - "but we are originally from Trentino my grandfather had been producing wine since the 50 years, and over the years we have passed on our way of cultivating the vineyard and making wine. We often talk about new technologies, for us it is nothing more than to rediscover what was already done in the past "
"We talk a lot about the pruning of the vineyard" - continues Luca - "many new diseases derive from the way to cut it. Recent studies have shown that practicing old pruning systems leads to the prevention of the onset of the same diseases. Organic, biodynamic what is it? Just like my grandfather made wine. "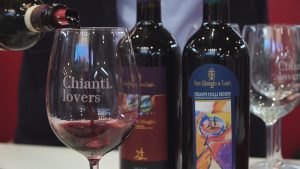 Luca speaks freewheeling while opening some of his bottles, San Giorgio a Lapi produces a Chianti Classico a Chianti Classico Riserva "The Bandecca"A very fragrant white the"May Flower " a reserve of Chianti "The Hermes"And a Chianti"Colli Senesi".
"Many times it is not necessary to follow the new trends" - continues Luca - "for me the family business means passing on work and experience and knowledge. We are five brothers, and we all work together within the company, and each of us has a different and well-defined role, and continually tries to do our best in our work. "
Luca focuses on the description of the reserve of his Chianti, a wine that combines two lands that of Trentino to Tuscany.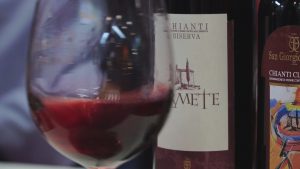 "Hermes is the name of my grandfather "- continues Luca -" coming to Siena he fell in love with Tuscany and here he started the company in 1977. With him he brought a vine: the Teroldego. After years of research and experimentation, we managed to combine Sangiovese with Teroldego, creating a wine with superior organoleptic qualities. "
Luca Simoni and his brothers invite everyone to taste their wines in their cellars very close to the historic center of Siena.
Watch more videos of San Giorgio a Lapi