Vallepicciola is located in Pievasciata, a small fraction of Castelnuovo Berardenga (Siena), 95 hectares and 12 wines, among these three Chianti Classico from the label that tells a story.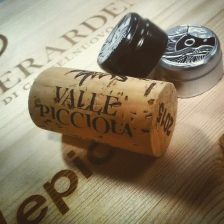 "The name Castelnuovo Berardenga derives from King Berardo, a king of the Franks who had been sent by his father around the year 1000 to govern the territories they owned near Siena; stopped here and gave the area its name. - he tells Alberto Colombo, AD Vallepicciola - We have embroidered a little on it and we have created our logo: a tipsy king, a drunken king and we have invented that the only reason why this king stopped in Castelnuovo Berardenga is because he tasted our wines that were already produced in the area, and they really liked it a lot ".
Clays, marble, tuff but also sands, give back to the grapes identifying characters that, especially in the most interesting years, we find in the glass.
"Land that gives excellent wines and great variability that perhaps is a bit lacking in Piedmont; we planted Sangiovese, so we make the three Chianti Classico, and then we decided to have fun with international wines too, so we also produce Merlot, Cabernet Franc, Cabernet Sauvignon, Pinot Noir. They are vines that are giving us great satisfaction, both in Italy and abroad ", explains Alberto.
Special the great selection 2016, sweet and juicy fruit, a Chianti Classico of character and that leaves the mouth dry. The pairing dishes are also excellent, prepared for the occasion by the Chef Vito Mollica and tasted in the magical setting of Four Seasons in Florence
"We are slowly building our brand, we are trying to make ourselves known, we try to make quality wines and they are wines from our area; we are doing well and we are trying to make the name of Vallepicciola known in Italy and abroad ", concludes Alberto.