We met Giovanni Manetti, Chairman of the Consortium of Chianti Classico wine, who told us he had high expectations for the next harvest.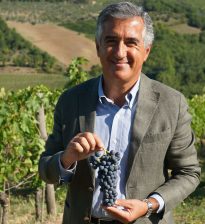 "September has always been the crucial month, the last mile, we decide everything in this month. - explains the president of the Consortium - At the moment the premises are for producing a wine of the highest quality. A mild and dry Winter allowed a regular sprouting, followed by a spring with enough abundant rains that allowed the formation of a water reserve in the soil. The vines faced the summer period with the roots in a cool and moist soil. The maturation took place optimally ".
The quantity of grapes is good and the lowering of the temperatures that characterized this beginning of September will undoubtedly help increase the aromatic profile, probably with an alcohol content slightly lower than in recent years.
"We will not have an anticipation of the harvest operations as in the past but we return to a classic vintage, typical of the Eighties," concludes satisfied Manetti.