We are in the 2002 and in the Chianti Rufina area, in collaboration with the University of Florence, we start a research on the genoplasm of the local vines, selecting a collection to bring into production.
"Of these we have made a selection clone, and reproduced to make a collection" - he says Gualberto Grati, Borgo Prunatelli, Rufina - "80 varieties including the Canaiolo bianco. The daughters of this collection were planted within a half-hectare vineyard and in the 2012 we had the first vintage, followed by the 2015 and 2016. "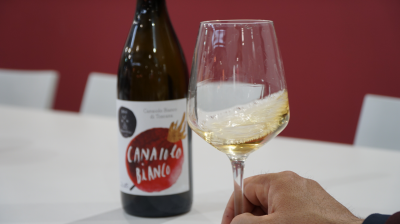 "Ours is a pure white Canaiolo, a white berry variety, not very rare but never really used. We found news from the ampelography books of the Ministry of Agriculture in which it emerges that it was used to refine Trebbiano. A very fragrant and storable wine, therefore suitable for aging. "
A wine that caters to people looking for something different, compared to the normal Tuscan wine scene. Its peculiarities are the interesting varietal notes, so it can be tasted as soon as it is bottled but also after a long aging.
"I don't know what we can expect from the vine, in fact we have a history of only 3 vintages" - continues Gualberto - "and with time we will see the evolution in the bottle. It could be assimilated to Vernaccia, due to its longevity, but I think it gives a much wider aromatic appearance. "
The future of white Canaiolo has yet to be written, and the next harvests will tell us much about this extraordinary grape variety.