Il BuyWine Tuscany. DON'T si stop. There are in course i preparations to theedition 2021 area of a manifestation has been conducted leader in Italy between the private events COMMUNICATION dedicated al came.
In considerazione of scenery current, BuyWine 2021 si will take place between May e June 2021 with un format completely redesigned e in mode digital e il BuyWine Tuscany. 2021 Sara il First Big digital Wine B2B.
from midnight di today, till ore 13 di Wednesday 3 March 2021 si they open therefore le Registration and will exclusively in mode on line.
They can do la question di participation le companies single o associate and produce e market wines DOCG, DOC, IGT area of Tuscany (excluded le companies and making exclusively le phases di bottling e/o di marketing) on place https://regionetoscana.crmcorporate.it/buywine2021, to the section "Events " after have register al portal same.

As si place le activity of BuyWine 2021
THEevent, organized like always da Region Tuscany. e PromoFirenze, provides meetings COMMUNICATION and will all in mode courses su platform informatics dedicated.
Pure dealing the same event unitary, il COMMUNICATION Sara divided in three: areas, with data different, each dedicated ad un different market: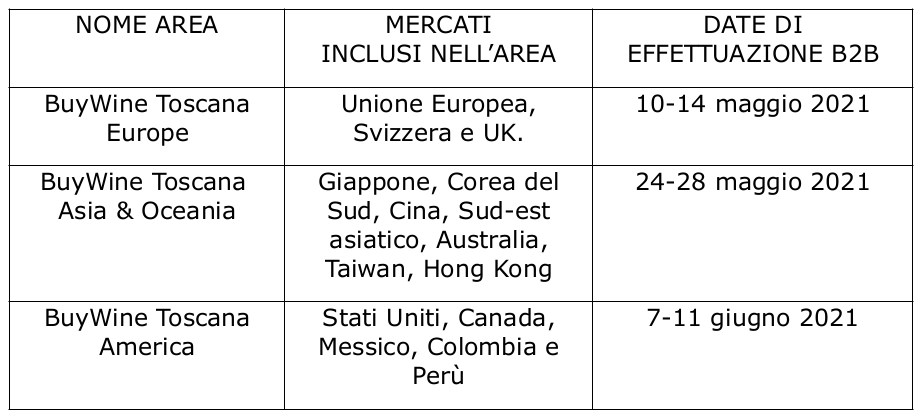 Al COMMUNICATION will allowed overall, leave again between le 3 areas, till ad un maximum di 150 companies toscane. I places are broken down indicatively like 50 places to each of the three: areas Europe, Asia&oceania e America.
Will guests about 120 buyer esteri between importers, distributors, agents, GDO, Horeca, operating in markets target.
Each firm will la possibility di perform the meetings COMMUNICATION and si place in mode digital on platform dedicated toevent e customized. - meetings with i buyers di a one area Geographic da choose yourself in advance, in phase di candidacy.
For i participants a BuyWine Tuscany. 2021 is reconfirmed, also quest 'year, la possibility di take part, over and al seminar preparatory, also to the competition international "Contest Mondial de Brussels" in program in Luxembourg from 21 al 23 May 2021
Will possible do tastings means thesending ai buyer di samples di came. each seller ammesso to the session di COMMUNICATION will put a disposal a sampling to the own wines to sending ai buyers with i which will appointment in agenda. La sampling will contain till ad un maximum di 4 references, and will invest ai buyer under crafts of "Vinotte " Each buyer receive la itself sampling, DON'T Sara possible send different Labels a different recipients. Il withdrawal of the bottles di wine presso thecompany, il repackaging e thesending ai buyer Sara completely a load of project.
Will finally possible take part al seminar preparatory, and si will take place Monday 29 March ore 15.
Il seminar ha lo purpose di to illustrate le features technical of format dell 'event 2021 e of the activity recommended, before, during e after the meetings, to cercare di get il maximum outcome dai meeting, with theobiettivo di help theestablishment di relationships commercial, a time finished la manifestation. This seminar will a duration indicative di 1 Now 30 minutes.
THEoperator, a own expenses, will take part al Contest Mondial de Brussels, in program from 21 al 23 May 2021 in Luxembourg.
"La situation is awesome - ha ditto la vice-president e councilor toagri-food Stefania Saccardi - e to this ci they wanted solutions innovative. Il BuyWine 2021 Sara therefore il first in history area of Tuscany. ad be organized on line. We messo la technology a disposal of the companies e to the buyer: also in presence area of pandemic il our obiettivo remains quello di to sustain, I would like to say with stubbornness, il process di internationalization of the companies Tuscan. Si is DON'T just di resist great difficulties di this phase, ma di be ready a restart with more greater power".
"It's important keep lit i spotlight on great excellences wineries regional - ha ditto Giuseppe Salvini, secretary general area of Camera di business di Firenze e director di PromoFirenze Il wine Tuscan is ambassador of our territorio e theaction di marketing and generates will help also theattractiveness tourist, when il picture sanitary Sara finally normalized ".