La Antica Calcinaia Trattoria Pizzeria di San Casciano Val di Pesa reopens its doors. The beautiful restaurant, which for years has welcomed customers on one of the most scenic terraces in Tuscany, will return to serve its customers from 19.30 on Saturday 23 May.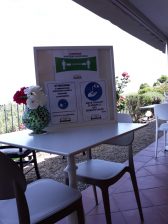 In addition to the carefully sanitized rooms and the tables spaced from each other in compliance with the Government's guidelines, those who return to taste the delicious dishes of the restaurant will also find pleasant news.
"First of all we have expanded the usable space at side garden and therefore, in addition to our renowned one Terrace, our guests will enjoy one dinner in the green and stop here also for a appetizerimmersed in the scent of our roses which are now in full bloom, "he explains Marco Romoli, owner of the Trattoria Pizzeria Antica Calcinaia.
Even the menu which has always been made up of traditional Tuscan gastronomic dishes revisited with great creativity by the chef
Gero
Weight
, in addition to the much loved "classics"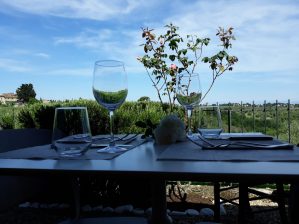 from the most loyal customers, it will offer truly special culinary creations.
"For the occasion I propose a very refined dish, the
Double cooked truffle pigeon served on a bean bag
and then, given that the warmer season has also arrived, it will be possible to savor the
handmade peach ice cream
, a real delicacy. - says the chef Weight -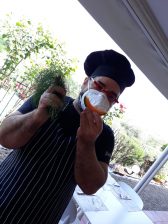 Of course, we share more loads than before, work is the basis of the dignity of each person and let's not forget that what may seem superfluous and not of primary necessity is actually food for the soul ".
In addition to recipes based on excellent products, from Saturday 23 May in the evening it will be possible to return to taste the excellent ones pizzas by Marco Romoli, obviously cooked in a wood oven. Finally, several fine wines will accompany and enhance all the dishes that, as in the past, will delight even the most demanding palates.
Menu

Starters
The Tuscan cutting board of Calcinaia
Crunchy Egg with Truffle
Eggplant Roll with Confit Cherry Tomatoes
Pecorino and pear flan with caramel in Chianti
Cod in Kataifi Pasta with Chickpea Hummus

First dishes
Pappardelle or Tagliatelle del Cacciatore
Tagliolini with Truffle
Lemon Pici with Zucchini Pesto
Asparagus crepes
Saffron Pigeon Risotto
Cod ravioli on Leek and Hazelnut sauce
dishes seconds
Great Fried House
Tagliata Olio & Rosemary
Florentine Scottona steak
Chicken cut with mustard lacquer served on crunchy vegetables
Citrus Duck Breast
Rabbit in Phyllo crust filled with asparagus and dried fruit
Double cooked truffle pigeon served on Macco di Fave

Side dishes
Patate Fritte
Fried vegetables
Mixed salad
Beans or Chickpeas in Oil
Crunchy vegetables with aromatic herbs
Turnips
Dessert
Peach ice cream
Puff pastry
Crunchy Strudel with Berries
Hot Chocolate Heart Cake with Wild Berries sauce
Cantucci and Vin Santo
The pizzas (Only in the evening)
Marinara
Margherita
Napoletana (Tomato, oregano, garlic, anchovies)
Napoli "Plus" (Neapolitan with fiordilatte mozzarella, mushrooms, olives, capers)
Sicilian (Tomato, oregano, garlic, olives, capers, anchovies)
Frà Diavola (Tomato, fiordilatte mozzarella, spicy salami, aubergine)
4 cheeses (tomato, fiordilatte mozzarella, parmesan, gorgonzola and emmenthal)
Bufala (Tomato, Bufala mozzarella, cherry tomatoes, basil)
Calzone (Cooked ham, fiordilatte mozzarella, mushrooms, pepper)
Open Calzone (Cooked ham, fiordilatte mozzarella, mushrooms, pepper)
Light (White pizza with buffalo mozzarella, cherry tomatoes and capers)
Rocket, Parmesan, Raw Ham and Fiordilatte
Raffaella (White pizza with fiordilatte mozzarella, fresh seasonal vegetables and emmenthal)
Gabriele (White pizza with fiordilatte mozzarella, parmesan, gorgonzola, emmenthal and fresh seasonal vegetables)
Truffle (White pizza with fiordilatte mozzarella, courgettes, cooked ham and truffle)

Antica Calcinaia Trattoria Pizzeria
Address and tel for booking (compulsory): Via Grevigiana, 21, San Casciano Val di Pesa, tel. 055 829 4785
Hours: Monday to Friday open only for dinner (19.30-22.30);
Saturday and Sunday also for lunch (12.00-14.00)
Closed on Wednesdays