Every year Lamole renews a symbolic gesture that summarizes the thought and philosophy of the Lamolese producers, the main actors of the first product of excellence in this area: the wine.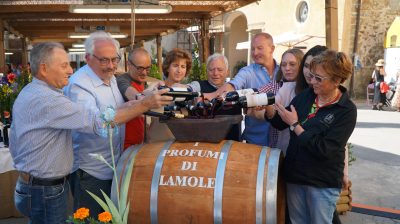 "We want the whole Consortium and all the members of the Consortium, the producers of this denomination to breathe this desire to live their individuality but then also to pool these resources and these product qualities for the growth of the entire denomination", explains Carlotta Gori, Director of Consortium of Chianti Classico Wine.
Wealth is often discovered in diversity, and here at Amount these brave producers have been pursuing, for many years, a path of rediscovery and enhancement of this land.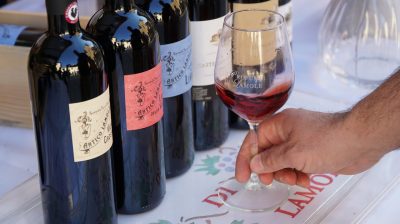 "What was the small enological civilization of Lamole - he specifies Paolo Socci, holder of the Lamole Farm - which has gone on for many centuries, then terraces, sapling farms and these pre-phylloxera vines, which were a particular selection born in the last ten centuries, since Lamole produced wine ".
In fact, here in Lamole, sapling breeding is still widespread, which allows the vine to better overcome situations of water and climate stress.
"Being low, the vine takes heat from the soil and therefore has a better maturation, produces much less but the quality is exceptional", he specifies Annamaria Socci holder de The Masses of Lamole.
2015 and 2016, two vintages that also for Lamole represent an undisputed qualitative peak, also rewarded the choice of some producers for a longer aging in bottle.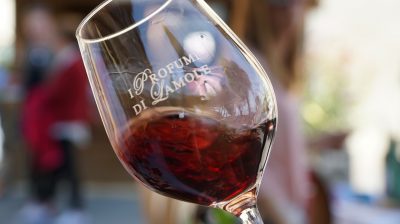 "We produce a very traditional wine and then we refine it in cement tanks and for this reason we decide to continue refining in the bottle to then put a ready wine on the market," he says. Serena Coccia, holder of Podere Castellinuzza.
Lamole we can consider it one of the happiest territories for the 2017 grape harvest in the Chianti Classico.
"Altitude helps us a lot," he explains Simone Coccia holder of Castellinuzza and Piuca - we do not suffer from the heat like other areas, we get a nice wine, always balanced, with the aromas of our Lamolese wine ".
Many interesting tastings, like this rosé by Lamole, made as tradition wants.
"In my opinion Lamole can afford to make a good rosé because we are very high, there is a lot of freshness, there is acidity, the rosé comes as it should come, a refreshing wine must come, almost like a white wine but it must be very distant from a red ", he says Juri Fiore Company Juri Fiore and Son.
And then the Vin Santo, a sweet wine typical of this corner of Tuscany, which tradition and peasant knowledge have handed down to the present day.
"We harvest in October, put on racks, in January squeeze and put in small signs, once of cherry, another time of oak or chestnut, etc, and then, after five years, what if it produces fifty bottles, sometimes sixty, this is the annual production we make of vin santo, "he explains Andrea Cinuzzi holder of Castellinuzza.
For Chianti, Lamole represents a heritage of unique values, and visiting it is perhaps one of the most beautiful gifts we can give.