La Grape Festival of Impruneta, which traditionally takes place every first week of September, including the leading events included Peposo Day, this year in conjunction with the market exhibition of the Chianti Colli Fiorentini Consortium.
A special day, therefore, in which the Chianti Colli Fiorentini winemakers propose all their wines to make them taste together with the most typical dish of Impruneta, the "Peposo alla Fornacina"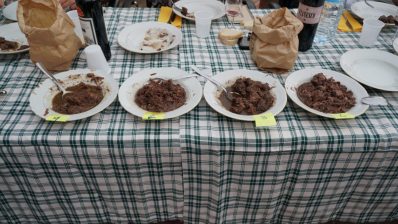 Il Peposo it is a preparation based on meat (bullock) elaborated precisely a Impruneta, a town famous since the Middle Ages for the production of terracotta. It is said that the Fornacini (the workers responsible for cooking the bricks in the kilns) were the ones who created this dish by cooking a crock pot with the ingredients immersed in red wine in a corner of the furnace for several hours. According to legend, the same fornacini were then hired by Brunelleschi to cook the terracotta for the construction of the Cathedral of Santa Maria del Fiore in Florence.
During the kermesse le housewives of the four districts challenged in the best Peposo race proposing four different interpretations of the traditional recipe. The jury, selected and chaired by the director of "Il Gazzettino del Chianti" Matteo Pucci. Among the jurors, in addition to the Mayor of Impruneta, Alessio Calamandrei, the food and wine journalist and director of "Il forchettiere" Marco Gemelli, Tommaso Ciuffoletti, expert wine blogger, e Manuela Pastina, journalist of "La Nazione". Guest of honor and jury president, the well-known butcher of Panzano, Dario Cecchini.
The jury, set up by the editors de Il Gazzettino of Chianti and coordinated by the director Matteo Pucci, he tasted the different versions of the typical dish together with or with wines from which he was elected first classified Rione delle Fornaci.
Here is the ranking:
First place: Rione delle Fornaci
Runner up: Rione Sant 'Antonio
Third classified: Rione delle Sante Marie
Fourth classified Rione del Pallò