A memorable parade in Piazzale Michelangelo which will probably remain in the history of fashion and the Tuscan city. One of the Pitti Uomo fashion events organized by 13 June from LuisaviaRoma, The well-known multi-brand store that celebrates 90 years of activity and that, for the occasion, has hosted all the most famous top models of yesterday and today. From Eva Herzigova to Guinevere VanSeenus, Kirsten Owen, Noemie Lenoir to the sisters Gigi and Bella Hadid, Irina Shayk, Karolina Kurkova and Mariacarla Boscono, just to name a few.
"An unprecedented and truly international fashion show, where European charm and organization worthy of a Hollywood machine have been intertwined", he tells us enthusiastically Claudia Bondi, responsible for the well-known PR Firm Pearls & Perlage and present at the event.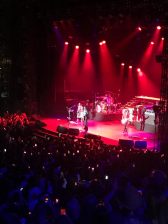 At the square, with a picturesque sunset and a fantastic soundtrack, 70 showed fashion brands and 90 on the catwalk with dresses by Prada, Miu Miu, Giorgio Armani, Burberry, Givenchy, Max Mara, Marc Jacobs, Moncler, Off-White, Simone Rocha , Laquan Smith, Richard Quinn, Yamamoto and an initial tribute to Karl Lagerfeld. Theme of the evening: the iconic The nineties, a fundamental decade for fashion.
Next, the breathtaking concert by Lenny Kravitz he inflamed the audience. The musician performed his most famous songs giving the audience a rock atmosphere perfectly in tune with the evening.
Among the VIP guests, the designers Ermanno Daelli from Scervino, Eva Cavalli with their son Robert, Laudomia Pucci, Remo Ruffini from Moncler, the showgirls Natasha Stefanenko and Melissa Satta.
An evening organized by Carine Roifeld, style advisor of the Karl Lagerfeld brand, former director of "Vogue Francia", founder of CR Fashion Book CR Studio that inaugurated its CR Runway in Florence Fashion Show.
Photos Claudia Bondi di Pearls & Perlage.