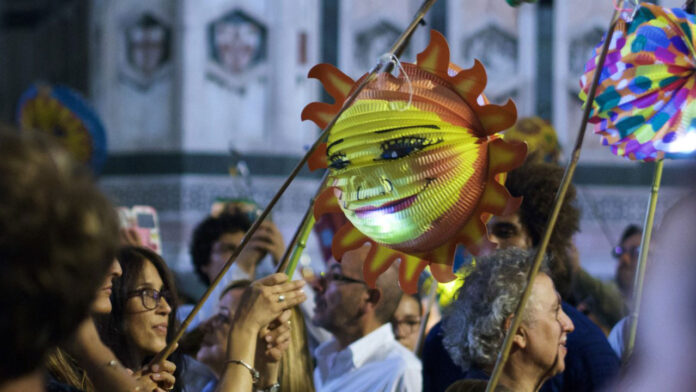 La Party area of Rificolona is a popular city celebration that probably dates back to the mid-seventeenth century, organized in the parishes of the diocese of the city every September 7th, To eve of the nativity of Mary.
From a purely religious festival, the Rificolona over the years has increasingly taken on a folkloristic character becoming, in effect, a great party for children. On the occasion of this anniversary, the children, equipped with the traditional colored paper lampposts hanging from the top of a cane, walk through the streets of the city (or their municipality) singing the note chant: "Ona, Ona, Ona, ma che bella rificolona ! And mine is more beautiful than my aunt's. Mine is with flakes, yours is with lice ".
And to celebrate this festival every year, on 7 September, various fairs, parades and colorful markets are organized in the city and in the neighboring municipalities. As expected this year, due to the emergency restrictions Covid-19, the program of events appears to be limited compared to the past even if there is no lack of initiatives, including the historical parade and various workshops for children.
Program
Historic Center - from 19pm to 23pm
"City Theater"
The center of Florence will be populated by 200 artists and actors who will perform surprisingly in the streets and squares.
End of summer party 2020 with aperitif
Guided tour of the city and the closing of the walk to the Antica Torre in via Tornabuoni 1 with the rificolone turned on (by reservation). For info: Antica Torre Tornabuoni tel. 055.265816
Circolo Vie Nuove (Viale Donato Giannotti, 13, Florence) from 15pm to 19pm
Workshop to create your own rificolona. Admission is on free offer and all the necessary material for individual use will be made available for children. In addition, to ensure the spacing, the laboratory will be divided into two shifts, the first from 15 to 17 and the second from 17.30 to 19.15. To participate, write to vienuov@vienuov.it, tel. 055.683388 or WhatsApp at 393.9190534.
District 3 - at 18.30
Giovannozzi Nymphaeum (Via del Paradiso entrance n.5)
Space for the meeting dedicated to the history and curiosities of this ancient Florentine tradition. A conversation with the historian Luciano Artusi to which you can participate freely and without the obligation to book.
Novoli. from 15.30 to 24.00
Carlo del Prete shopping center
Party with market, rificolone parade with the awarding of the most beautiful.