On the occasion of the 49 ° edition of theExhibition of the Chianti Classico, scheduled from 5 to September 8 in the beautiful setting of Greve in Chianti, Enjoychianti, tour operator specialized in the organization of tourist services in the Tuscan territory, promotes "Panoramic Tour by Open Van ".
During the famous festival that celebrates the fine wines of the Black Rooster, between a tasting and an event, it will be possible to enjoy a panoramic tour on an open van through the campaign chiantigiana, among splendid olive trees and vast expanses of vines, discovering some of the most suggestive villages of Tuscany such as Greve in Chianti, Panzano in Chianti, Montefioralle and Badia a Passignano.
Greve in Chianti, considered by many to be the capital of the Florentine Chianti, it is a pretty medieval village located on the Via Chiantigiana, the picturesque road that crosses the Tuscan hills and that once connected Florence to Siena. The central square of the town is pleasantly animated by trattorias, wine bars and historic shops selling handicrafts.
Panzano in Chianti, a hamlet of Greve, is a delightful village on the Tuscan hills, at 498 meters above sea level, inhabited already in the Etruscan era. The enchanting Chianti landscape that surrounds this place is worth a visit on its own. The castle is the oldest part of the village and is located in the so-called 'Panzano alta'. A good part of the walls that encircled the town are still well preserved, as well as the corner towers, one of which was reused as the bell tower of the Church of Santa Maria.
Defined by many as "one of the most beautiful towns in Italy", Montefioralle is located on a hill overlooking the upper valley of the Greve river and the ridge of the Chianti mountains. Developing around the ancient castle, the village has assumed an elliptical plan, with a radial road from which suggestive alleys wind. The ancient walls, still well preserved today, have the remains of some towers, now converted into homes.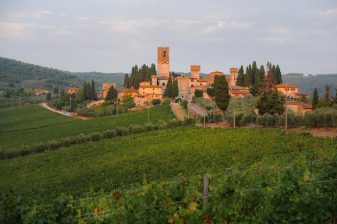 Badia a Passignano is a small medieval village developed around the Abbey of S. Michele Arcangelo, nestled among the vineyards of one of the most beautiful areas of the Chianti Classico. The ancient monastery, founded by the Archbishopric of Florence, was one of the most powerful castles in the Val di Pesa. The majestic monastic complex and the houses that surround it offer the visitor a postcard view.
An expert Italian and / or English speaking driver will present, on request, some curiosities on the territory. They are also provided two brief stops, respectively a Panzano in Chianti and Badia a Passignano, to take some souvenir photos.
Il Panoramic Tour by Open Van it's just on booking. It will be possible to reserve tickets by telephone or buy them directly at the information box present for the occasion in Piazza Matteotti during all the days of the food and wine event.
For information and reservations
EnjoyChianti
Piazza Matteotti, 10 - InfoPoint of the Municipality of Greve in Chianti (FI)
Office: + 39 055 016.34.23 + 39 055.85.46.299 Mobile: +39 360.109.49.42